About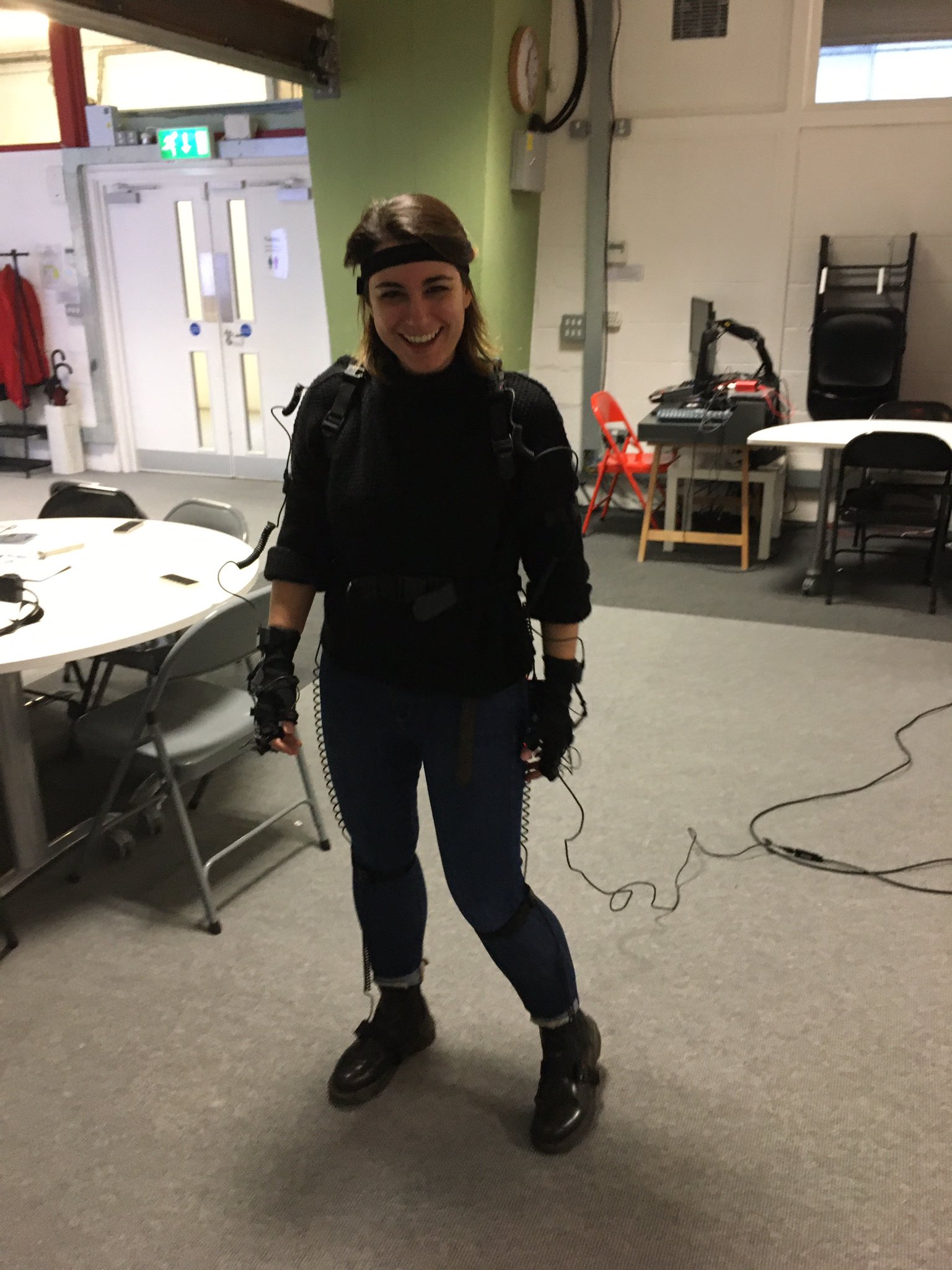 Maf'j Alvarez is a digital media artist and creative technologist living in Brighton, UK. Her work focuses on ecology, cultural and gender diversity in relation to open access to technology. She also works as a user experience designer on large-scale digital transformation projects for government services.
Maf'j has a BA in Interactive Arts from Manchester Metropolitan University (1998) and an MA in Digital Media Arts from Brighton University and Lighthouse (2015). She has been a resident artist at Fusebox Brighton since 2017, where she began working with virtual reality using Unity3d. She has helped other women learn VR through hack days, mentoring, talks, and collaborations.
Past work includes the interactive installation "Stroke," which was shortlisted for funding by the Wellcome Trust's SciArt initiative and shown at ISEA (International Symposium of Electronic Arts), and "Softworld," an interactive modular textile installation that encourages collaboration and was shown at The Lowry.
Recent work includes the VR experience "INTER/her" with artist Camille Baker on reproductive system illness, and "Eva Quantica," commissioned by the National Gallery X and shown at Brighton Festival. During the Covid-19 pandemic, Maf'j founded Inkibit Immersive, which aims to support women and other marginalized immersive tech creatives to democratize technology for the cultural and arts sector. She runs workshops, talks, hack-jams, and mentoring sessions, and participates in programs focused on early stage prototyping in immersive arts.
Virtual Reality prototyping/production
2022 | Vessel – artistic exploration | Kathleen Rogers | Brighton
2022 | Gorba (Uprooted) VR | StoryJam | Storytellers United & Netherlands Film Festival
2022 | Eye/I Create VR – prototyping | Divya Kasturi Dance Company
2022 | There Exists – Early VR prototyping | Studio Anrk
2021 | Museum of Imagined Futures – Early VR prototyping | Indigo Storm/ Studio Anrk
Events, talks & workshops
2022 | Gorba (Uprooted) VR | StoryJam | Storytellers United & NFF | Utrecht | Watch trailer
2022 | Audiolicious sound hackjam | Inkibit immersive @ Spring Forward Festival | Brighton
2022 | Eva Quantica VR – presentation | EVA London Conference | Online
2022 | Eye/I Create VR | St Albans Festival | Divya Kasturi Dance Company | St Albans | Watch online
2022 | Eva Quantica VR | Brighton Festival | Brighton | Watch trailer
2021 | Rosehill Stickybits VR gameshow | Brighton Digital Festival @ Rosehill Arts | Brighton
2021 | Eva Quantica VR | Brighton Digital Festival | Brighton
2020 | Stickybits gameshow | Driva Arts Driva @ The Fusebox | Brighton
2020 | Hookathon – Hacking the herbarium | Kew Gardens
2020 | Celebrating Women in Tech | Fusebox | Wired Sussex | Watch online
2019  | Hanningtons Hackday | Brighton Digital Festival
2018 | Rootbeans at Fusebox – Watch online
2016  | Great Lengths | XX+ Games Jam | Refig & Press fire to win| Brighton
2016  | Rootbeans game | Bognor Regis hub meetup | Wired Sussex | Bognor Regis
2015  | Hackess accessibility hackathon | Fablab London & Goldsmiths college | London
2015  | Rootbeans workshop | Now Play this, Somerset House | London
2015  | Rootbeans talk and demonstration | Pixels and Prosecco | Brighton
2015  | Rootbeans game | Apticon, Mozilla space | London
2015  | Women digital artists, and their relationship with code – Talk | 300 Seconds | Brighton – Watch online
2014  | Moment | Popathon hack day, Brighton Digital Festival, Lighthouse | Brighton
2014  | Lego Panopticon presentation | Now Play this, Somerset House | London
2013  | Lego Panopticon | Brighton Cryptofestival, Lighthouse | Brighton
2005 | Animation workshops | Mindmine | Campbell Works
2005 | Samba Xchange international program development | Creative Partnerships (ACE) | London
2004 | Streets for people workshops | Mindmine | Campbell Works
2002 | Muslim Diaspora schools workshops | Maria Kheirkhah | Cultural Cooperation | London
Masterclasses, teaching and mentoring
2022 | VR workshop – Holonspace | ZZZAP Studios | Utrecht
2022 | Individual mentoring in Unity3d for VR production | Various | online
2022 | VR Masterclass – Holonspace | Lincoln University
2021 | VR Masterclass – Holonspace | Kings College London
2021 | VR Masterclass – Holonspace | University of Sussex
Exhibitions
2015  | Rootbeans game | Now Play This, Somerset House | London
2014  | Rootbeans game | Brighton Science Festival, University of Brighton | Brighton
2015  | Three Sisters | Transparency MA show | Brighton University
2005 | Mind Mine animations | Mindmine | Campbell Works
2003 | Choice Chance Circumstance | Newcastle Graft, Waygood Gallery | Newcastle
2002 | Rekwear | Stoke Newington Festival | London
2000 | Softworld | The Lowry | Salford
1999 | Stroke | Care=Art=Care | St Augustinus Hospital | Antwerp
1998 | Stroke | ISEA98 | Manchester
1998 | More Bark Than Bite | Dry bar | Manchester
Education
2013-2015 | MA Digital Media Arts | University of Brighton & Lighthouse Arts
1995-1998 | BA Hons Interactive Arts | Manchester Metropolitan University
Publications and articles
2022 | Eva Quantica VR | Science open | Download paper
2019 | Featured FuseBox Resident: Maf'j Alvarez – read online
2016 | MA Thesis: Female digital artists and their relationship with code – Download pdf
Links
Twitter
Root Interactive – Design portfolio
Generate – Generative Art
Rootbeans  – Game site and blog
Github – digital repositories
Youtube channel
LinkedIn
Pinterest
Twitter