Eva Quantica
Eva Quantica is a virtual reality dance piece created by artist Maf'j Alvarez about female identity in a lockdown bubble – a dreamlike, painterly open world to explore Eve and her multiple selves.
Created by Maf'j Alvarez. Commissioned by the National Gallery, London, as part of National Gallery X and Audience Labs at the Royal Opera House in March 2021 Supported by King's College London Inspiration from Crivelli's Gardens, by Paula Rego and using the motion capture data of Eve, choreographed by Kristen McNally
---
How to experience Eva Quantica VR
In person
I will be taking the VR experience out to various different venues. You can keep up to date with photos and videos on Instagram @eva_quantica

Brighton Digital Festival:
Past Events
Download and sideload onto your own Oculus Quest
Currently only available for the Oculus Quest, you can sideload the app via Sidequest: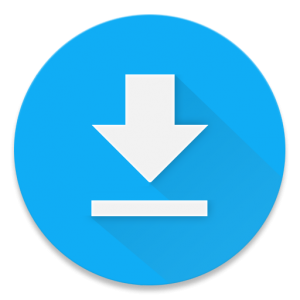 Download Eva Quantica for the Oculus Quest
---
About Eva Quantica
Press release:
Maf'j Alvarez imagines entering a surrealist painting using VR in her piece Eva Quantica, a dreamlike bubble of lockdown Brighton as an open world to explore the various simultaneous dancing selves of Eve. Hands for hills, a cupcake pavilion, platforms, statues, depictions of people and the glowing life-force surging through everything. Maf'j's piece is about female power, patriarchy, immigration, tradition and obligation. She explores technology as an agent of power for women and its consequences and wants to challenge the rules that always apply.
The commission is experimental and explores embodiment with motion capture, she says "As a recently divorced mother of two teenage sons I am also transitioning with a new set of perspectives and tools as I question my own gender and sexuality. My ability to be creatively, financially and technologically independent is both liberating and frightening due to the obligation like Eve, to do something with it that is meaningful and impactful whilst nourishing and protecting myself and my family"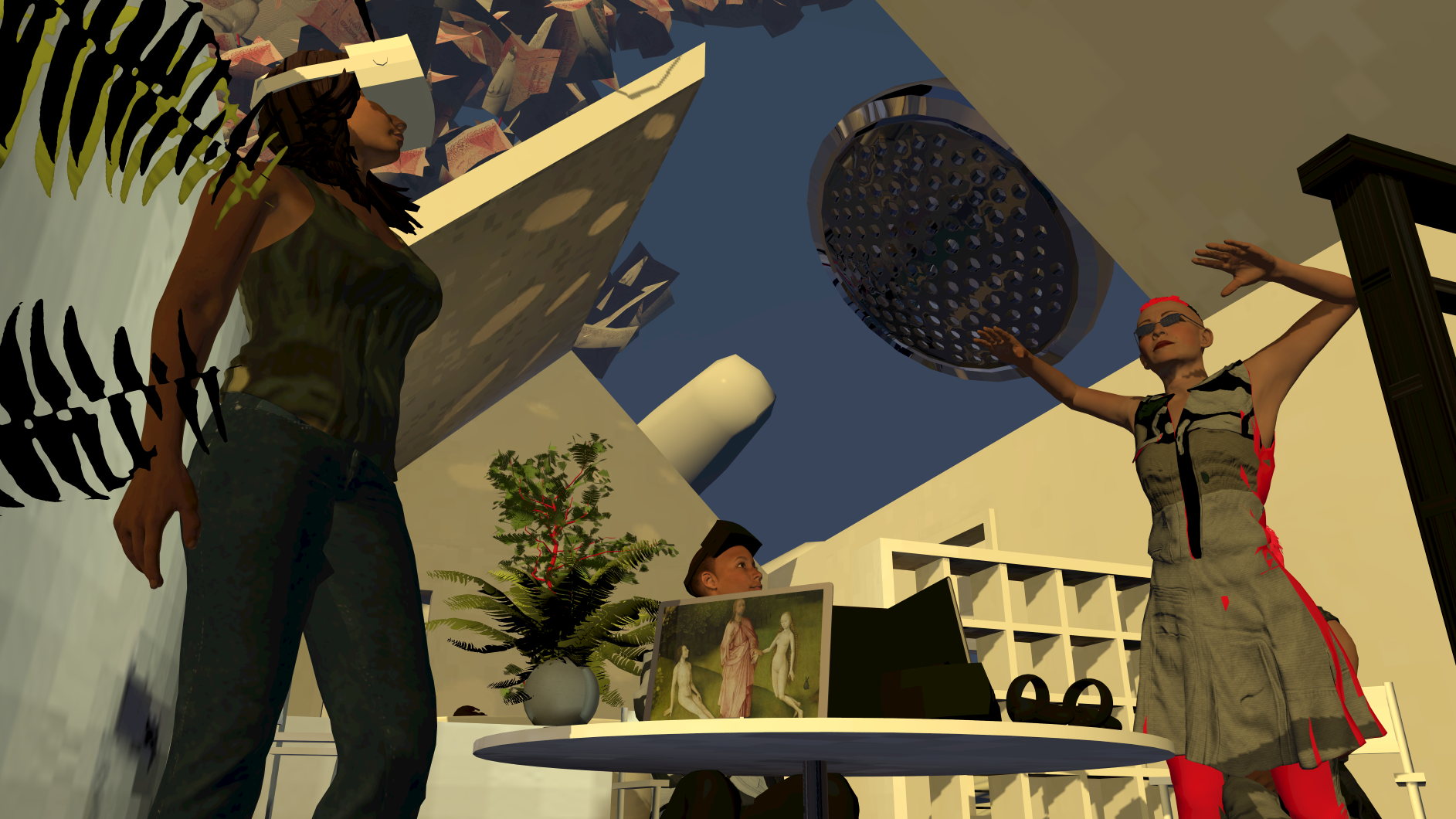 Mae (left), Shae(middle) and Prof(right) in the tech kitchen
In a bit more depth…
A slide presentation with accompanying notes.
Eva Quantica is a virtual reality dance piece about female identity in a lockdown bubble. A dreamlike, painterly open world to explore Eve and her multiple selves. Putting on the headset you see 3 characters in a boat, a red cat, a woman and a statue. There are no explicit instructions, but as you explore and move around, sooner or later you'll collide with one of these characters. When that happens you'll assume their viewpoint in the world.
Eve has arrived alone to a new land where she hopes she can make a fresh start. Finding herself torn in different directions, she takes on different identities to cope. She knows it's tough in paradise…but it was tough were she came from, and her hope is that future Eve's will suffer less here. She's brought past Eves along with her too but they are a hindrance as much as a help. The Fence here is her first barrier, some versions of herself are already dancing on the other side, each one entangled with the others.
Existing in an often confused state, the Eves dance (or dance-fight…) their way through the various challenges in life. Sometimes sitting on… Sometimes touching… but rarely opening up – the emotional luggage they carry around. In the reflective bubble of lockdown, they're confronted with their own natures whichever side of the fence they're on. The red lifeforce flows through everything, dead or alive, old and new.
The kitchen I'm in right now faces the park in the world I have made, and is where I used digital tools to make Eva Quantica. I am the three Eves we see here. Mae in the headset – she carries a saviour complex around with her. Shae is the programmer – she would rather work than do anything else, and Prof, on the right, is determined to find the truth and see how far she can reach in every sense. All 3 have to work together.
Kristen McNally provided me with a ballet choreography in the form of motion capture files. I used these to shape my own narrative. Inspired by Paula Rego, Hieronymus Bosch and the 20th century surrealists, I re-created my own lockdown bubble. My world in Brighton is a haven of diversity for misfits like me. In my virtual version the pavilion is made of cupcakes and the giant legs of the Duke of York cinema are a cabaret playground. Whether you're small like a cat, big like a statue, whether it's early morning or late evening, you'll see things differently and you'll only see what you want to see
Paula Rego says "The picture allows you to feel all sorts of forbidden things, and that is why you do pictures – you get at things you didn't even realise…and you're allowed to do even outrageous things" Along with many other ideas – I took this permission from her and allowed my subconscious to flood the world. Some core concepts arrived early on, others arrived later as I crafted the piece.
You can download Eva Quantica from my website and it currently runs on the Oculus Quest. I plan to release a version for tethered headsets and a multiplayer version. I would like to show this work at festivals, in museums, galleries and community centres as well as other places where it may be well received.
Eva Quantica wants to tell women that they have a place in the making of a new technological future where they can encode their own reality
If you would like to collaborate with me or want to show this work, please get in touch at mafj@rootinteractive.com
Related links:
The Rules Do Not Apply | National Gallery
Credits
Eva Quantica is has been ideated, designed and technically produced by Maf'j Alvarez in Unity3d and Blender with rigging through Mixamo. Additional sound design by Anna Bertmark at Attic Sounds.
Special thanks goes to Andy Baker and Paul Hayes for their technical support, training and patience with learning to be more logical and code better in C#. Thanks to Chris Chowen at The Fusebox for helping test out the mocap suit, and Laura Loonstein for her support and inspiration.  I believe in sharing both assets and expertise so that licencing is not a barrier to learning or making – since there are already so many barriers to face. I try to use public domain and Creative Commons licenced assets as well as free and open source tools wherever possible and made a conscious choice to build for a VR hardware device that could be affordable (£300) and wireless so that more people and more organisations could afford to show this work in more diverse scenarios such as shopping centres, pubs, social centres, waiting rooms, schools as well as art galleries, museums, libraries, art and film festivals.
Music:
'Snowfall' by Scott Buckley – www.scottbuckley.com.au
'Stones in ur hand' by Invenice licenced under icons8.com
'Inegalite by LT3O'  licenced under icons8.com
'Lollipop' by Geoxor is licensed under a CC-BY-SA Creative Commons License.
Character models:
Eve
Other dancers
Art assets
Sadly many assets have been downloaded from Google Poly which will be permanently shut down on 30th April 2021. Good news is that Andy Baker and a dedicated team of people are scooping out the assets into an open source archive of objects that will be available soon. I will upload my adapted versions of these assets below into a collection in Sketchfab like this one for Lina Belina